Wolverine Plating Corporation offers barrel zinc plating and barrel zinc-nickel plating services to a variety of Industries.
Corrosion resistance
Abrasion resistance
Wear resistance
Improved lubricity
Non-Toxicity and biocompatibility
Light reflection and absorption
Electrical insulation.conductivity
Solderability
Enhancements of paint adhesion
Building up of thickness on undersized parts
Aesthetic / Decorative Qualties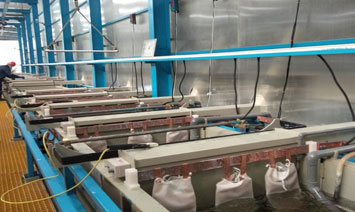 Barrel Plating vs. Rack Plating
Barrel plating is generally seen as a way to achieve mass production finishing at a low per part cost.  And while barrel plating can be somewhat limited by size of parts that can be coated, a wide variety of shapes and sizes can be readily and effectively handled by barrel plating.
Typically, if you have a large number of non-oversized metal parts that need to be electroplated, barrel plating is your most cost effective choice.
Need to talk to someone about YOUR electroplating needs?  Or would like for us to recommend a rack plating company? Contact Us
But What Alloy is Best to use to Coat my Metal Part?
Recently, a Salt Spray Test was run by a NVLAP certified laboratory, testing the overall effectiveness of zinc-nickel, zinc-cobalt, and zinc-iron against corrosion.  Each coating was tested in a salt spray chamber, and then the number of hours until red rust appeared was determined.
The test showed that it took almost twice as long for the zinc-nickel coated part to rust, as it did for the zinc-cobalt and zinc-iron plated part. This result indicates than when resistance to corrosion is important, zinc-nickel is the coating of choice. Zinc Alloy Salt Spray Test Results
Should My Part Be Coated with Zinc or Zinc-Nickel?
Depending upon the application for which the part will be used, it may be better to apply a zinc-nickel coating than a zinc coating.  With other parts and applications, a zinc coating is sufficient.
To learn more about the advantages of zinc-nickel over zinc coatings, Barrel Zinc Plating .  Zinc-Nickel Plating